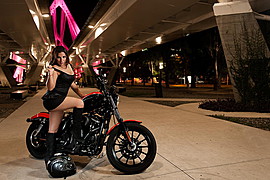 El negocio de la foto debe ser creativo y novedoso y divertido. Soy nativo de la hermosa ciudad de Guadalajara y mi historia comienza ahora. Soy fotógrafo oficial de mi familia y de la vida misma. El objetivo es utilizar la creatividad y las técnicas mas novedosas y equipo para encontrar una forma de expres..
Guadalajara, México. Egresado de la licenciatura en Medios Audiovisuales por el Centro de Arte Audiovisual (CAAV). Me definiría como un freak del cine e imaginante de tiempo completo. Inicié mi carrera en la fotografia experimentando en la edición digital. La realidad es que he sido casi totalmente autodida..
Photographers currently located in Guadalajara that can be hired for photography projects. Typical jobs are model books, fashion editorials, advertising campaigns as well as commercial photography projects. Depending on the photographer assignments can also include wedding and ceremony photo shooting and video capturing as well as family oriented services such as baby and children photography.